Peter Crouch has not been a regular starter in Stoke City since the season of 2015-16 when his appearances in the main team took a huge dip and he was only able to make 11 appearances for the English club during that season.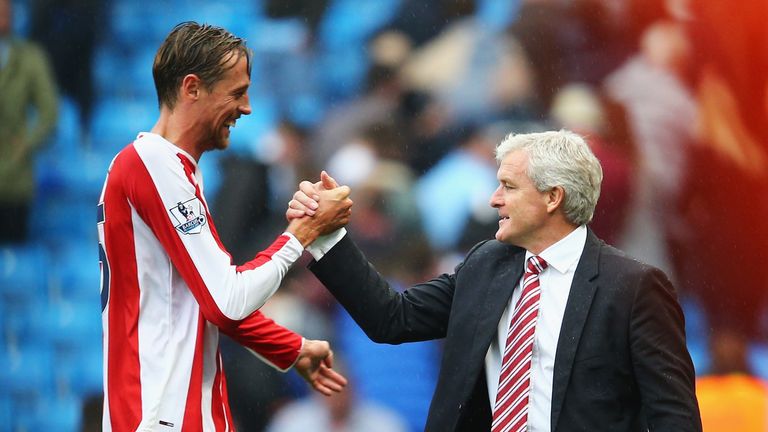 The latest season of the Premier League 2016-17 kicked off on August 13 of 2016 and even though there has been a total of 12 league matches played, Peter Crouch has only been able to make 6 appearances as his time with the first team is extremely limited and rare with the English attacker only being able to get playing time for specific matches.
The winter transfer window is quickly approaching and the future of Peter Crouch appeared to be cloudy as he was being linked with Derby County. The English League Championship club is rumored to be interested in signing Peter Crouch but Mark Hughes has emerged and stated that even though the 35 year old player is not a regular starter, Crouch is still a valued player and the veteran attacker will be playing an important role in this season.

Mark Hughes said: ''He's a player we value. He wants to play more, I know that, but he's going to play a part this season I'm sure of that. His fundamental strengths and his actual game aren't so different to what they were when he was 25 or 26. All the things he's got are still in place and he's still very effective. He's a bit frustrated but he's just got to be patient''
The head coach of Stoke City, Mark Hughes is aware of the frustration that Peter Crouch has as his lack of playing time is hampering his career which is entering the last few years of his career and considering that Crouch is 35 years old, he would like to spend these seasons in a club where he can get consistent playing time which does not seem like it's going to happen in Stoke City anytime soon but according to Mark Hughes, the veteran player is an important figure.